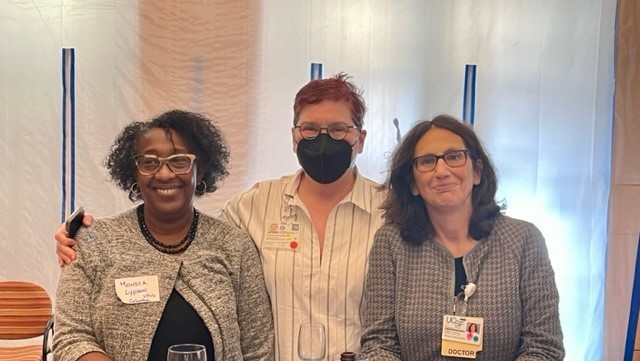 The UCSF FUEGO (Faculty at UCSF Expanding Growth & Opportunities) program is a faculty/fellow development program that enhances UCSF's ability to recruit, retain, and promote Latinx and other URM faculty and fellows. The program serves UCSF Watson Scholars/other URM fellows and junior faculty yearly. It consists of a one-year program composed of Five, Half-Day Careers-In-Progress sessions throughout the year.
The UCSF FUEGO program is led by UCSF LCOE faculty Dr. Alicia Fernández, Dr. Beth Harleman, and Dr. Meshell Johnson. 
For more information on FUEGO please contact:
Connie Calderon-Jensen, Associate Director
Email: [email protected] 
---
FUEGO Curriculum & Schedule 2022-2023
October 2022: Dinner reception with SOM Leadership & Watson Scholars
November 2022: Panel Discussion with former Watson Scholars
December 2022: Planning Your Academic Career
January 2023: Gauging and Considering Opportunities
February 2023: Academic Promotion
March 2023: Mentoring and Being Mentored
April 2023: Inclusive Leadership
May 2023: Personal Finance for Academics
June 2023: Reflecting on Year 1 of being a Watson Scholar
Cohorts
Click here to read more about the UCSF John A. Watson Faculty Scholars. 
The application will be posted when available.