The UCSF Latinx Center of Excellence (LCOE) has wrapped up its first year of programs.  Funded by the Health Resources and Services Administration (HRSA) and the UCSF School of Medicine (UCSF SOM), the UCSF LCOE is primarily focused on UIM career development at multiple places along the journey to academic medicine.  It also has an ambitious goal: to contribute to the health of California via strategic partnerships and initiatives. 
"Latinos are California's largest ethnic group at nearly 40% of the population, so California's health is increasingly tied to the health of the state's Latino population. This center will enhance UCSF's academic infrastructure to train Latinx physicians and physician-scientists." – Alicia Fernandez, MD; Director, UCSF LCOE
LCOE programs are collaborations:  with undergraduates at CSU Fresno and SFSU; medical students and residents at UCSF; faculty members early in their careers at UCSF; and a student run-community clinic.
Below is a brief summary of how the LCOE has contributed to existing programs, built and launched new ones, and moved the needle on UCSF's ongoing efforts to increase diversity and heighten awareness of research that can impact the health of underserved populations.
Undergraduate Programs:
Cal State University, Fresno - LCOE APP at Fresno State 
Under the direction of Dr. Katherine Flores (Fresno) and Dr. Robert Rodriguez (ZSFG), eight UIM undergraduates from Cal State Fresno completed the summer mentored-research program and submitted their research abstracts to the UCSF Health Disparities Symposium, happening on October 11, 2019. The students gained research skills, MCAT preparation, faculty mentorship, and career advising with the goal to prepare them for successful medical school application.
San Francisco State University – LCOE APP at SFSU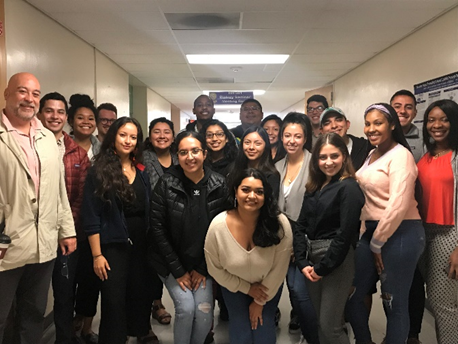 LCOE APP at SFSU is an existing NIH-funded collaboration between SFSU and UCSF that aims to enhance the diversity of the biomedical research workforce. The LCOE APP at SFSU is a year-long premedical program for UIM SFSU undergraduate students that provides summer intensive workshops, mentoring and training on policy brief writing. The goal is to develop scholar's exposure, access, and confidence in attaining a career in medicine. Tomás Magaña, MD and Kelechi Uwaezuoke, DrPH direct this program which is strengthen by its collaboration with UCSF medical students, faculty and LCOE staff.
The inaugural cohort of eleven APP Scholars completed the summer session. During the academic year, APP Scholars will participate in an ongoing one-on-one mentoring program and a speaker series with healthcare professionals. They will also continue working on their health policy projects with a goal of publishing their work by the end of the year.  The scholar's favorite activity?  Meeting UCSF medical students!
The LCOE worked with small cohorts, providing additional one-on-one mentoring and direct intervention, in the hopes that these concerted efforts will produce more students ready to apply to medical school.
UCSF Medical Student Programs:
UCSF faculty Drs. Denise Connor, Sarah Schaeffer, and Alicia Fernández led this program which completed its second year. This year, 20 rising second-year UIM medical students participated in a three-day intensive leadership development, clinical reasoning and clinical skills program. The students worked in small groups with faculty and took advantage of the high faculty to student ratio to refine their presentation of their clinical thinking.  Also appreciated:  the good food, fellowship, and fun environment.
"Overall, this was a great learning community. I felt welcome to ask questions and try presenting, even when I was unsure about how exactly to structure my presentations. It was really nice [and] comforting to be surrounded by other UIM students and faculty, as my ethnicity [and] background was one less thing that I had to [be] self-conscious about."- Anonymous Student Quote from ALAS Evaluation
PROF-PATH - Promoting Research Opportunities Fully-Prospective Academics Transforming Health 
PROF-PATH is an academic and research career-development program for UIM medical students with broad academic interests and non-UIM students interested in health disparities research. UCSF faculty Drs. Loma K. Flowers, Alma Martinez, and Alicia Fernández lead this program, now in its seventh year.  PROF-PATH students participate in SOM Summer Explore research program while receiving funding via the LCOE.
The PROF-PATH program completed its first year under the direction of the LCOE. This year, the program was adapted to a smaller cohort of Latinx/UIM students who focus their research on health disparities. Fifteen rising second year medical students participated in the six-week program working on highly varied projects ranging from bench research to community based and population science studies.  They engaged with each other's summer research trajectory and negotiated research challenges as a group, via the careers-in-progress workshop sessions.  Drs. Jabari Jones and Loma Flowers' book, "The Power of Emotional Competence: A Universal Framework for Life", was incorporated into the curriculum to highlight the decision making and relational skills necessary for a successful academic career.
      "I feel more empowered and optimistic"
"The most valuable thing about this workshop was listening to the narratives of my peers: This was powerful!"- Anonymous Student Quotes from PROF-PATH Evaluation. 
UCSF Residents:
SALUD - Shaping Academic Leaders United in Diversity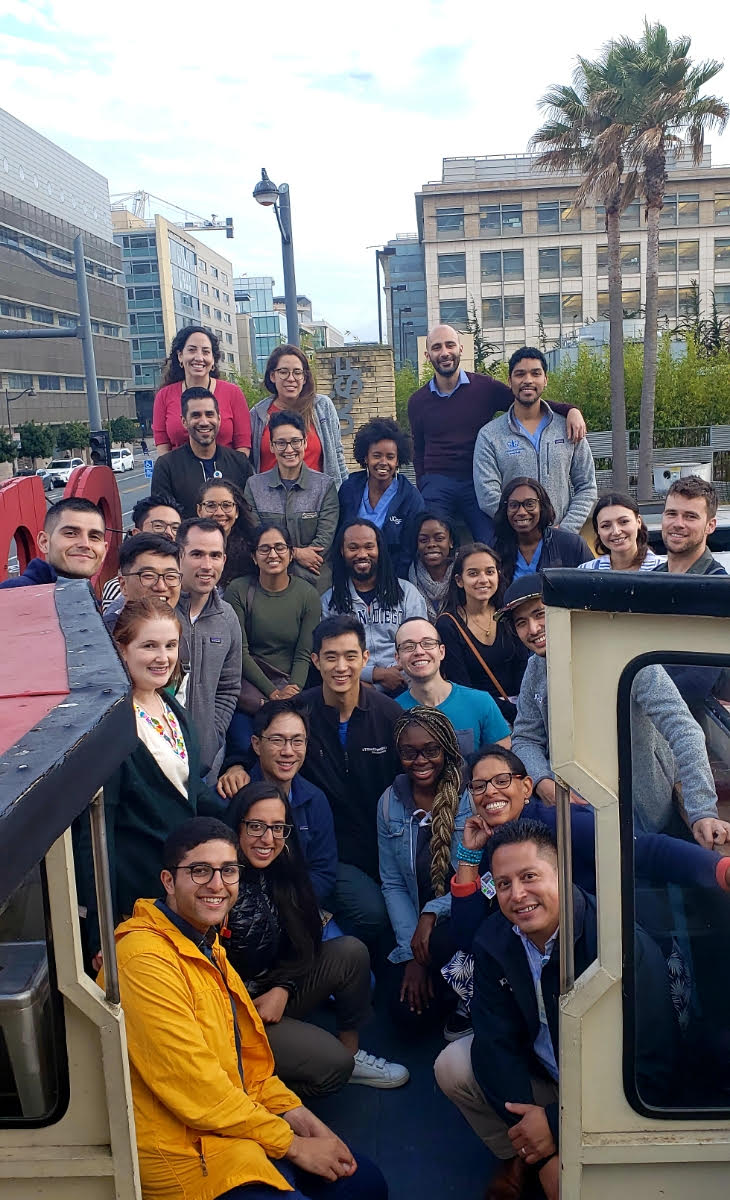 UCSF faculty Sarah Schaeffer, MD and Michelle Guy, MD lead this program whose goal is to increase individual and group mentorship opportunities for Latinx and other URM residents in all departments across UCSF.  SALUD encourages residents to consider academic careers, assists in forming key relationships with faculty researchers and clinician educators, and addresses personal and group barriers to academic careers.
SALUD hosted three UIM resident events on mentorship, publishing, and applying to fellowships this past year. SALUD also teamed up with GME to host a welcome event at Spark Social for residents (photo above). This year, the program selected Resident Champions from each residency program to serve as ambassadors for the program.
UCSF Faculty:
FUEGO – Faculty at UCSF Expanding Growth & Opportunities 
This faculty/fellow development program enhances UCSF's ability to recruit, retain, and promote Latinx and other UIM faculty and fellows. The program is led by Drs. Kirsten Bibbins-Domingo and Alicia Fernández. It is a collaboration with UCSF's John A. Watson Faculty Scholars program.
FUEGO completed its first year with three half-days of sessions focused on navigating a career in academic medicine, creating individual development plans, and lessons learned from graduating UCSF Watson Scholars. Twenty-eight Watson Scholars participated in this inaugural year!  Drs. Elizabeth Harleman, and Meshell Johnson will be collaborating with the LCOE as faculty leads next year, bringing expertise in multiple career pathways.  During the academic year, FUEGO will consist of four half-day sessions designed to enhance academic and research skills such as manuscript development, grant preparation and oral presentations while addressing self-efficacy and positive scientific career outcomes at UCSF.
Community Clinic Partnership:
This student-run clinic, a collaboration between San Francisco State University undergraduates and UCSF medical students, is located in the Mission neighborhood and helps address the medical needs of predominantly uninsured Latinx day laborers. There are 38 SFSU student volunteers and six UCSF Medical School Coordinators actively involved in the day-to-day function of the Clínica. CMB core faculty are Professor Felix Kury from SFSU and Dr. Manuel Tapia and Dr. Alma Martinez.
This year, the LCOE provided CMB with support in establishing a new website (check out the link above) as well as an innovative mentorship program created by Dr. Manuel Tapia, which focuses on mentorship triads to sustain the relationships between the SFSU undergraduates and busy UCSF medical students. In addition, this collaboration strengthened a ten-week Family and Community Medicine elective called Contemporary Issues in Latinx Health (FCM 184), at UCSF.  Undergraduates from SFSU will also be able to join this medical school elective!
Key Initiatives:
In addition to the LCOE's programmatic efforts, the LCOE has been working on partnership development at the local, regional and state level, including sister LCOE's at Stanford and UC Berkeley and well –established community-based organizations such as Institute Familiar the la Raza. The goal with this work is to advance workforce diversification, support for DACA and immigrant students, and promote health equity for Latinx populations in California.
More information on the LCOE's Key Initiatives is available here.